Open source:
Teachers have the ability to place their own questions into the games. You can do this in every one of our over 110 educational games meaning that you can fit it around classwork.
Pathways:
Teachers can also set pathways of learning for their students to follow, complete with deadlines and objectives. Our games can be sorted by topic, making it easier for you to tailor make subject-specific pathways that work in conjunction with your classroom learning. Pathways can help support and catch up students in the classroom who may have been absent for a period of time, or have gaps in their learning for a certain topic.
Creating a pathway is easy with EDArcade, as you can sort the games by topic and simply tick the games you want to assign. Our tools also allow you to swap the order of the games, set a deadline and explain the objectives of the pathway to the students.
Tracking and Reporting:
What sets us aside from other game-based-learning packages is our intertwined ability to track and record the activity of your students in an easy-to-use interface. On EDArcade you can create and assign values to your students, sort them by year group, lesson set, special education needs, and absence frequency, allowing you to tailor your game program to each individual student. Edits can be made at any time.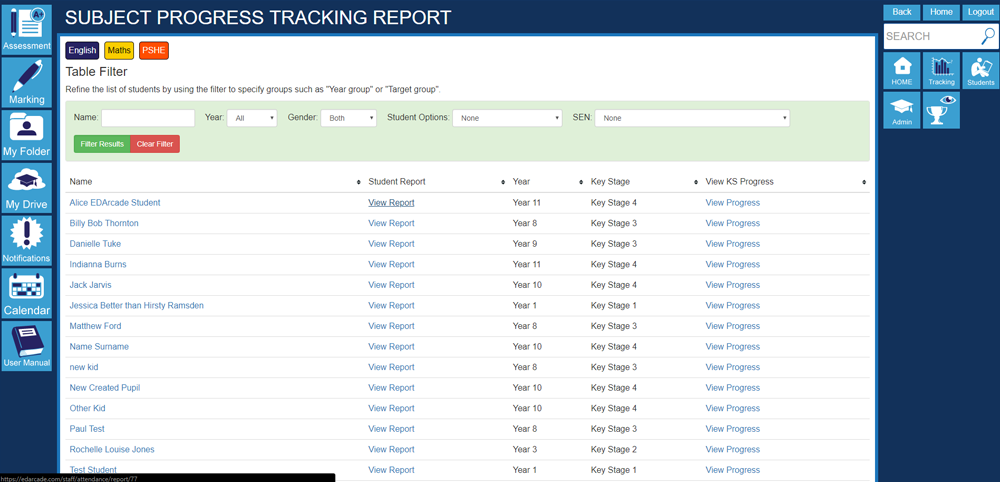 Tracking:
Games played, time spent playing, student's score, and pathway progress can all be tracked. There is also a League table which can be seen by both students and teachers. Students can compete and see how their performance fares against their peers whereas teachers can see how well the student has understood both the game and the topic and identify students who may need extra support.
Reporting:
Games can be tracked easily so even if a student does begin the game they have been set, it won't count unless they have at least given it an attempt. In the games that support it, the student's answers are also tracked, giving you an insight into the gaps of knowledge or topics of difficulty that the student encounters.
Benefits:
Place your own pathways into the game.

Set pathways of learning for your students, complete with deadlines and objectives.

View students' total scores and given answers in each game.

Educate students about hard-to-teach topics.

Quickly and easily assign homework.

Receive support when needed via phone call and email.

See if students have completed games and how long they spent on them.
EDArcade
Aston House,
Campbell Way,
Dinnington, Sheffield,
S25 3QD